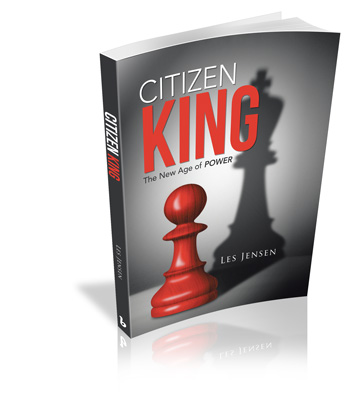 "My book teaches you how to get your ego to trust the power of your heart and the passion of your heart, and then show up for yourself
by taking action, bringing that inspiration into fulfillment," Jensen says.
Believing that the world needs authentic wisdom, Jensen wrote his book as a guide to navigating turbulent times. He asserts that people already have higher wisdom residing within them, but just have to figure out how to unlock it in order to discover their personal power.
Buy your copy of Citizen King.
Amazon US/UK/AU Barnes & Noble Balboa (Publisher)
Or order through your local bookstore worldwide.
Reviews
Reclaiming and Empowering Ourselves Once Again!
"This wonderful book has clarified many complex areas for me. The book provides foundational knowledge about the true nature of who we really are, and how we are to navigate our way through the twists and turns of being human. Les Jensen is the teacher of our times, especially in these times of constant Shifting into a new way of being."
~ Vanita L.
"Citizen King is a Chicken Soup, The Secret, Three Feet From Gold, Outwitting the Devil, reader "must have." Some books are for the head. Some are for the heart. Others are for entertainment. And a few, a very few, pierce the soul. I recommend that all of my readers, and famous publication fans, read Les Jensen's Citizen King as a cell phone recharge to full bars for your spirit and soul. While reading this book, you will experience the pure joy that your spirit desires, and deserves!"
— Berny Dohrmann, Chairman, CEO SPACE INTERNATIONAL
---
"Les Jensen's zeal and excitement fill these pages with empowerment. In his new book, Citizen King: The New Age of Power, you'll discover amazing strategies for dissolving boundaries blocking your power. You'll learn about the amazing power of acceptance in dispelling negative tendencies. With the help of this book you'll be able to find that deep state of joy and satisfaction. Please don't miss this amazing book!"
— Peter Ragnar, author of Finding Heart: How To Live With Courage In a Confusing World
---
This is a Must Read for Anyone interested in Stepping into their Authentic Self and Fulfilling a Meaningful Life of Purpose … Thankfully, Les Jensen's book Citizen King came into my life at just the right moment and was a key component in my decision to create Revolutionary Wellness Talk Radio. There is such a profound clarity to his message and I wholeheartedly recommend it to anyone interested in accessing and expressing his or her own personal power and healing dysfunctional egoic tendencies.
— Rochelle Mclaughlin
---