---
Les Jensen is an Author, Inspirational Speaker and Spiritual Podcast Host.
Les brings a powerful message of authentic personal potential to his audience, tapping that infinite well of our own human potential, which brings a sense of excitement and vision to our future.
Inspirational/Keynote Speaker
Les brings a high energy, passionate and insightful delivery to his audiences. Capturing the audience with story, metaphors and humor. Empowering and promoting the success of his audiences.
Topics include
Quantum dynamics as it relates to: Consciousness, Healing, Enlightenment, Manifesting, Mastery
Emotions. Functional and dysfunctional tendencies related to: Workplace Stigmas, Relationship Dynamics, Family Dynamics, Personal Emotional Intelligence. Example of the in depth perspective of our emotional tendencies.  Listen in.
Mind/Ego: Mastering the mental arena to eliminate in congruent tendencies. Conscious and subconscious patterning. Alignment with the Soul, Healthy workplace environments, Embracing the evolution and elevation of Human Consciousness. Healing the Mind/EGO relationship with Emotions.
Custom/Specialized content upon request.
Online and National/International in person appearances.
Submit speaking inquiries to …

Author
Author info included below.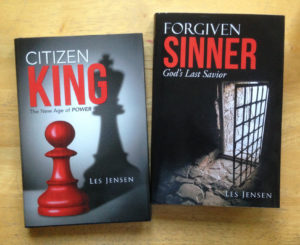 Download Press Release (PDF) Citizen King Press Release
Download interview questions (PDF) Interview Questions for Citizen King
Download excerpt from book (PDF) Excerpt from Citizen King
Download Forgiven Sinner (PDF) Press Release.
---
Recent Interviews
The Kevin Moore Show
Show Title: Nobody Can Change You More Than Yourself, Its The Best Thing You Can Do, For Everyone Involved.
Joining the conversation where Les talks about the moment his life changed … forever.
Dec 31, 2020

FSSC Church
Speaker: Les Jensen
Show Title: Embody Your Soul
Joining the conversation where Les talks about the benefits of anger, karma, emotions and Soul.
Sept, 11 2022
---
Short Bio
Les Jensen began his lifework as an engineer in broadcast television, where he worked every day with high-power television transmitters. This hands-on experience with immense amounts of energy would later convey to him the language that he would ultimately use in his spiritual writings.
While moving through immense mental and emotional struggles in his life, Les discovered that vast amounts of energy were present within his subconscious, which he came to recognize as his own personal karma. As he worked with his own energy, clearing out that which did not promote his dreams coming true, Les discovered a purity located in the core of his being. After releasing his unresolved subconscious patterns that had bound this energy, Les discovered an inner light within himself, a light that had always been there, the light of love itself.
In 2009, Les created New Human Living, a platform that promotes personal empowerment and Les' life purpose of being of service to others. He is also host of New Human Living Radio, where he enjoys insightful conversations with guests who are shaping the future of human consciousness.
Les' book, Citizen King: The New Age of Power, was published by Balboa Press in July 2015, and talks about how we can show up in an authentic and powerful way, fulfilling the vision of our heart and soul. In 2013, Les wrote Personal Power Fundamentals, an e-book that reviews the fundamental nature of our own personal power, including how to overcome one's karmic propensities.
Les makes his home in Colorado, USA. To learn more, please visit NewHumanLiving.com
Download Short and Full Bio for Les Jensen as PDF
Landline, Zoom and Skype available for interviews.
Contact us for media interviews, as well as requests for guest and speaking opportunities.

---
Media Images